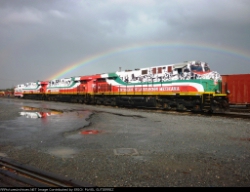 Welcome to the RRPictureArchives.NET contributor site of ERICK PAVEL GUTIERREZ.



My photos of Mexican and Foreign Railroad Power. Models of my colection of NdeM HO Scale. The present and past of railroads in Mexico. And the images of the TV Show 4Play and the trains involved.


Mi pequena contribucion a la memoria Ferroviaria Mexicana. Gracias a los Nacionales de Mexico por haber existido y brindarnos esta pasion!!!.

Aviso Legal:

Ninguna imagen de este sitio puede usarse con fines de lucro, cualquier uso en paginas, foros, blogs, deber notificarse por escrito al autor para su consetimiento. Derechos resevados.


All rights reserved. Any use including internet, blogs, slides, etc. must be notificated to the autor. Prohibited for commercial purposes.




You may browse my collection of pictures via the menu located on the left hand side of the page. I hope you enjoy the collection and thanks for stopping by!
Note: This site is best viewed in Internet Explorer 6.0 or above.
Select one of the links from the menu on the left to begin browsing the collection.